While Pardot has recently been rebranded as Account Engagement, we continue to refer to it as Pardot in this blog post, as it is still widely recognized by our clients under this name.
As a marketer, your email-sending reputation is one of the most critical factors to consider when it comes to email success.
Your sending reputation determines whether your emails land in the inbox or spam folder, impacting your email deliverability rates and overall campaign performance. A positive email-sending reputation means that email service providers (ESPs) recognize you as a legitimate sender, allowing you to build trust with your audience, improve engagement, and achieve a true return on investment.
In this post, we'll explore why your email-sending reputation is crucial to your marketing success and provide actionable tips for managing it effectively in Pardot.
Email Deliverability in Pardot
In Pardot, managing your email-sending reputation involves taking a proactive approach to ensure that your emails are reaching the right audience and that your reputation as a legitimate sender remains intact.
While there are some general steps and/or tips involved in managing and maintaining your email-sending reputation in Pardot (see below), it's important to first understand the difference between sending IP options (and the option your organization is currently using).
Option One: Shared Sending IP
While it's not the only option available to you, most Pardot customers' accounts are set to use a shared IP pool to send emails. In short, this means that multiple customers share the same IP address when sending emails through Pardot.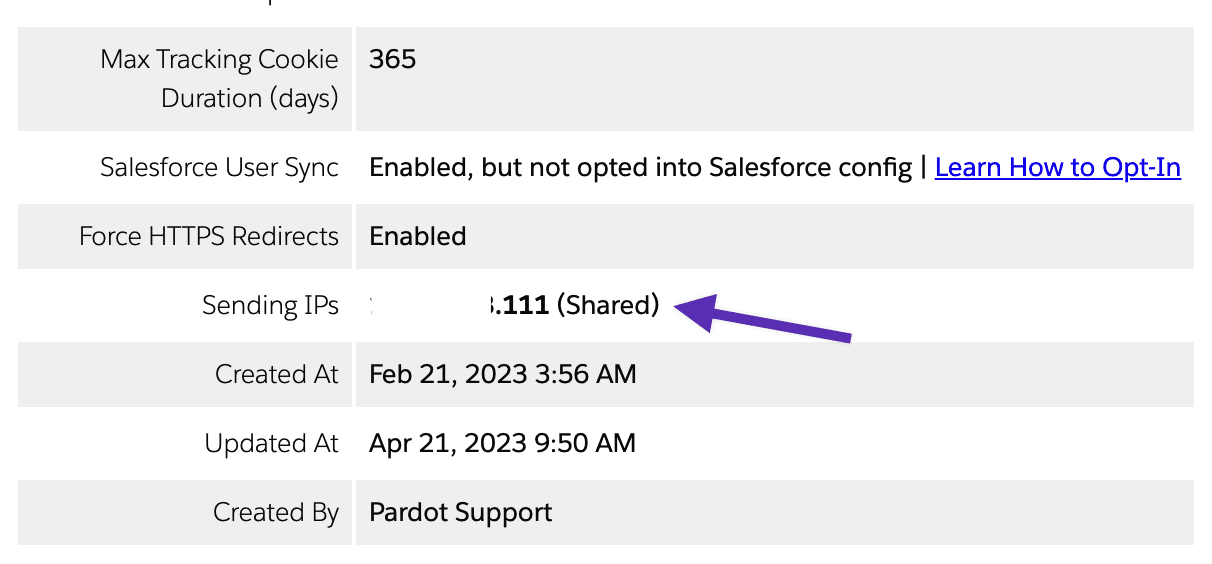 The use of a shared IP pool has both benefits and drawbacks. One of the main benefits is that it allows Pardot to distribute the reputation of the IP address across all its customers, which can help prevent any individual customer from being penalized for poor email-sending practices.
Additionally, Pardot's team of deliverability experts actively monitors the IP addresses to ensure that they maintain a positive reputation with email service providers.
However, there are also some potential drawbacks to using a shared IP pool. If one customer engages in poor email-sending practices, such as sending spam or having high bounce rates, it can negatively impact the reputation of the shared IP address, potentially affecting all customers who use it.
For some Pardot customers, the shared IP pool option can be frustrating as it limits their control over the sender score associated with the shared IP address. Despite following best email-sending practices, customers may feel that their efforts are being diluted by poor sending practices of other users sharing the same IP address.
Despite these potential drawbacks, most Pardot customers find that using a shared IP pool is a sufficient way to manage their Pardot email-sending reputation.
Option Two: Dedicated Sending IP
Pardot also offers the option for customers to use a dedicated IP address, which means that they have a unique IP address solely for their organization's email-sending activities.
Using a dedicated IP address has some obvious benefits over a shared IP pool. Most critically, it provides greater control over an organization's email-sending reputation.
A dedicated IP address provides more customization and flexibility in terms of email-sending practices compared to a shared IP pool; this increased level of control makes it possible for Pardot users to tailor their email-sending practices to their specific needs and preferences and ultimately exert total control over their sending reputation.
To make the best decision for their organization, Pardot customers must consider several factors. These include the size of their email list, how often they send emails, their level of technical expertise, and the resources they have available to manage a dedicated IP address effectively.
Ultimately, the choice between a shared IP pool and a dedicated IP address depends on several factors, including email volume, the complexity of email-sending practices, and the desired level of control and customization.
Determining your organization's sending IP setting
It's essential to know which sending IP your organization is using in Pardot to effectively manage your email-sending reputation. Fortunately, finding out is a straightforward process.
As long as you have Administrator access to your Pardot account, you can quickly locate your sending IP by navigating to the Account Engagement Settings page. From there, review the 'Account Settings' section and look for the 'Sending IP' row.

Checking Your Organization's Sending IP Score
To check your sending IP address's sender score, you can use a third-party reputation monitoring tool like SenderScore.org. Sender Score is a free tool that provides a sender reputation score on a scale of 0-100. It measures factors such as email volume, spam complaints, bounce rates, and more to determine your sending IP's reputation.
To use Sender Score, simply enter your Pardot org's sending IP address on their website, and you'll receive an instant report with your sender score and recommendations for improving it if necessary. Sender Score also provides additional tools and resources for email marketers to improve their email-sending reputation and deliverability.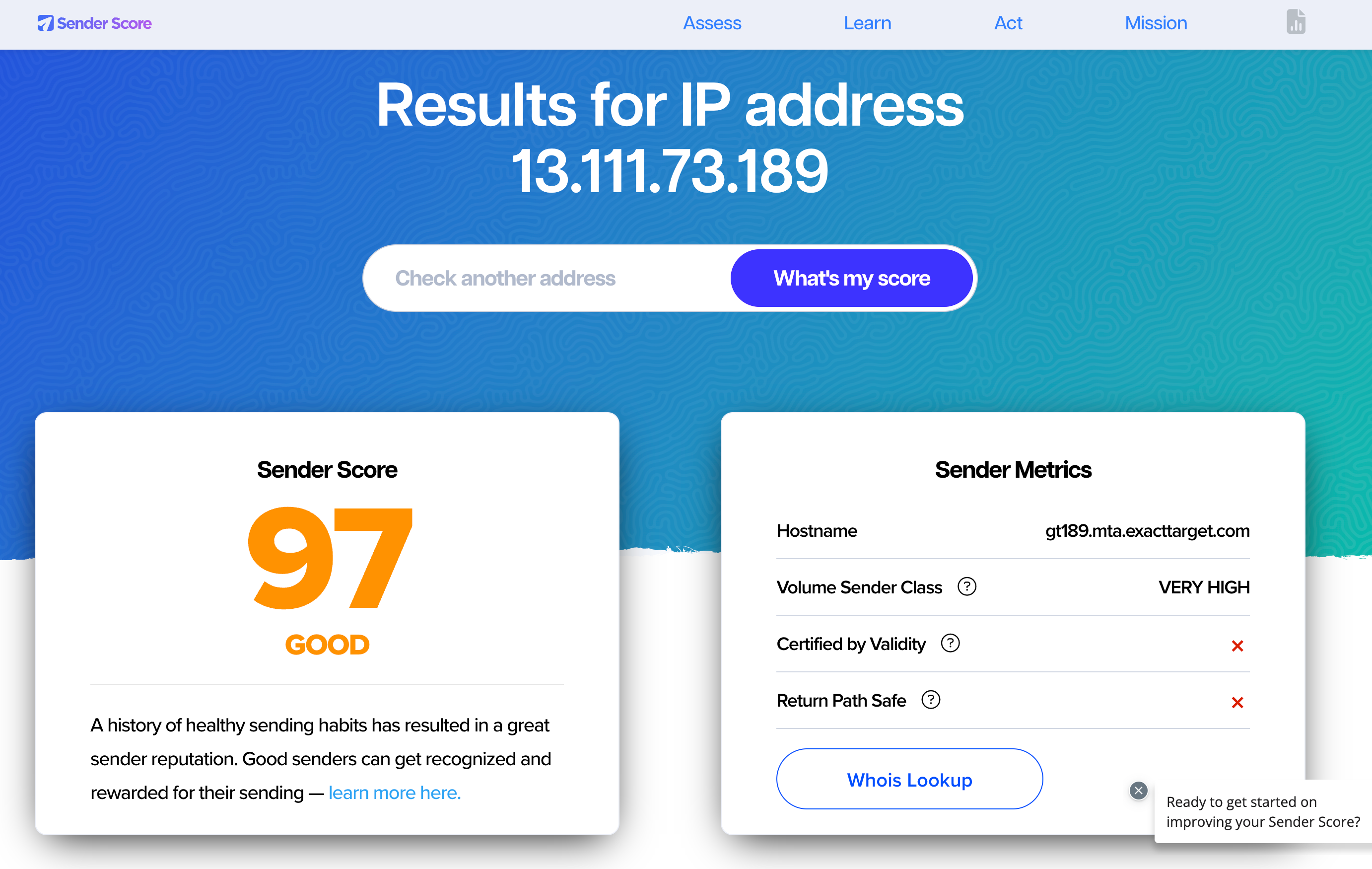 Managing Your Pardot Email-Sending Reputation
In Pardot, managing your email-sending reputation involves a combination of best practices, including monitoring your email metrics, using authentication protocols, and maintaining a clean email list.
In this blog post section, we'll explore some tips and strategies for managing your email-sending reputation in Pardot to help ensure your emails get delivered and read by your subscribers.
Email-Sending Domain Authentication Protocols
Authenticating your domain and emails is essential to building a positive reputation with internet service providers (ISPs).
Pardot offers a couple of email authentication options to help improve email deliverability and reduce the risk of your emails getting marked as spam. These options include SPF (Sender Policy Framework) and DKIM (DomainKeys Identified Mail).
SPF is a DNS (Domain Name System) record that allows email-receiving servers to verify that incoming email messages come from an authorized IP address or domain. With SPF, you can specify which IP addresses and domains are authorized to send emails on behalf of your domain, helping to prevent spoofing and phishing attacks.
DKIM is an email authentication method that adds a digital signature to your outgoing email messages, which is then verified by the recipient's email server. The digital signature includes information about the sender, the domain, and a unique identifier for the email message, providing a way to verify that the message is legitimate and hasn't been tampered with in transit.
Usually, these measures are taken at the beginning of a Pardot implementation, so if your Pardot account is already active, it's probable that these authentication protocols have already been established. Nevertheless, if you are worried about email deliverability, you can review these settings to make sure everything is configured as intended.
To verify your organization's email authentication settings, go to Account Engagement Settings and access 'Domain Management.' Then, check that each column is labeled as 'verified.'

Monitor Email Deliverability
Deliverability rates have a significant impact on an organization's email-sending reputation because they can indicate how successful their emails are at reaching their intended recipients' inboxes.
If emails are frequently flagged as spam or rejected by internet service providers (ISPs), it can harm the organization's reputation and lead to more of their future emails being filtered to recipients' spam folders or blocked entirely.
In contrast, high deliverability rates demonstrate to ISPs that the organization is sending valuable and relevant emails to their subscribers, improving their reputation and increasing the likelihood of their emails reaching the intended recipients' inboxes.
Keeping a close eye on your email deliverability metrics is vital to managing your reputation. Pardot provides various deliverability reports to help you track key metrics like open and click rates, bounces, and spam complaints.
To access the deliverability rates of recent Pardot email campaigns, go to the 'Account Engagement Reports' tab and select 'Marketing Assets' from the left-hand sidebar. From there, click on 'Emails' and then 'List Emails.'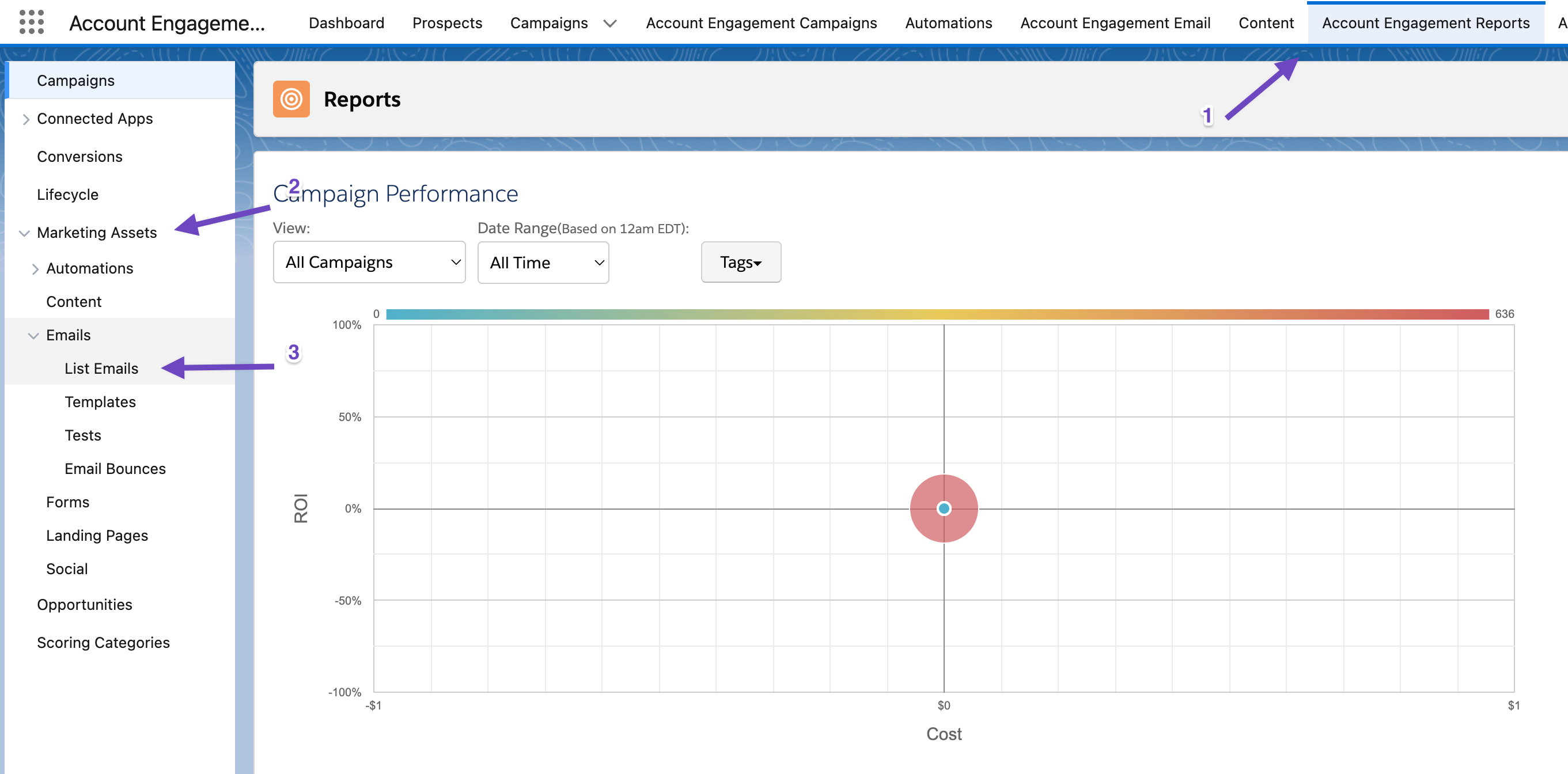 The List Email Statistics page displays important deliverability metrics, including bounces, opt-outs, and spam complaints, which provide a summary of your emails' overall performance.

When facing poor email deliverability rates, it is important to consider the following two areas for review of your email-sending practices and potential solutions.
Pardot Database Hygiene
Maintaining a clean and up-to-date email list is crucial for preserving your sending reputation. While Pardot provides some out-of-the-box list cleaning tools (such as tracking bounces and opt-outs automatically), going beyond these tools is essential to maintaining a truly clean database.
To implement a more effective email database hygiene system, organizations can adopt several techniques.
Firstly, leveraging an email verification service (such as ZeroBounce or NeverBounce) to validate the authenticity of email addresses in their database can be of great benefit. This is especially important when importing older email addresses or email addresses that have never been attempted to email before. After running an email list through a verification service, you can remove any email addresses that are inactive from your system (thus preventing the likelihood of bounces).
Pardot customers should also take steps to target dormant prospects, which are prospects with valid email addresses but have either shown no activity or have had no activity for an extended period of time. This involves developing strategies to re-engage these prospects through targeted and personalized campaigns, such as tailored content or offers.
If re-engagement efforts fail to activate dormant prospects, organizations should consider removing them from their database. Retaining their information or continuing to engage them is not beneficial, as they have already demonstrated disinterest.
By focusing on re-engagement efforts, organizations can avoid the adverse effects of low engagement on their email reputation.
Email Best Practices
While there are general best practices that organizations can follow to improve their email-sending reputation, it's important to keep in mind that these practices can vary between industries and audiences. For example, the content and tone that is appropriate for a B2B audience may differ from what is appropriate for a B2C audience.
Additionally, different industries may have specific legal requirements or regulations around email marketing that should be taken into account. As such, it's important for organizations to consider their specific audience and industry when developing their email marketing strategy and best practices.
Nonetheless, the following practices are generally applicable and useful for most:
Sending relevant and personalized content to your audience
Avoiding the use of spam trigger words and phrases
Segmenting your email lists to send targeted messaging to specific groups
Including a clear and noticeable unsubscribe or email preference center link in all emails
Consistently sending emails at a regular cadence
Using a clear and recognizable "From" name and email address
Avoiding the use of URL shorteners in your emails
Avoiding the use of purchased email lists
Ensuring that your emails are mobile-friendly and accessible to all recipients.
Various tools (such as Litmus) can assist in assessing an email's layout and content, offering suggestions to align with best practice standards. This can be an excellent starting point for organizations uncertain if their emails meet industry standards.
Hiring an agency to review an organization's emails and sending practices can also be incredibly beneficial.
Agencies bring a wealth of expertise and knowledge, which can help organizations identify areas for improvement that they may have overlooked. In addition, agencies can provide an objective perspective on an organization's email strategy, and offer customized recommendations based on their industry-specific expertise. This can lead to significant improvements in email engagement, deliverability, and overall performance.
By working with an agency, organizations can access valuable insights and resources that will help them optimize their email-sending practices and improve their overall email marketing success.
Summary
Maintaining a positive email-sending reputation is essential for organizations to ensure that their marketing messages reach the intended audience.
By focusing on best practices such as email authentication, list hygiene, and re-engagement efforts, organizations can not only maintain a positive email-sending reputation but also improve their overall engagement metrics. By implementing these strategies, organizations can ensure that their email campaigns are reaching their target audience and driving meaningful results.
Feeling overwhelmed? Reach out to us if your company needs additional assistance in evaluating email practices, layouts, content, and/or sending practices. Our team of experts can provide you with tailored guidance and recommendations to help improve your email-sending reputation and increase engagement rates.