In today's fast-paced and competitive business landscape, it's no secret that technology has become a vital component for the growth and success of any organization, regardless of its size. But this reality carries extra weight for small businesses, which often operate with limited resources and require scalable solutions if they want to compete effectively.
To stay ahead, small businesses are increasingly turning to technology solutions like Salesforce to better connect with customers, glean actionable insights, streamline operations, and—ultimately—achieve long-term growth.
But while Salesforce can certainly deliver on its promises when properly configured, adopted, and managed, small businesses often struggle to navigate the complexities of the platform without expert guidance.
The problems with in-house help
There are two main ways to get guidance and support with the Salesforce platform: hiring an in-house administrator or teaming up with a Salesforce agency.
By hiring an in-house resource, businesses can benefit from dedicated, ongoing support and a deep understanding of their specific systems, processes, and goals. Depending on the industry and regulatory requirements of your business, a full-time employee may also be better suited to handle confidential information or sensitive customer data.
But while investing in full-time help might seem like an obvious choice for businesses—particularly SMBs—it may not be the most prudent; the judiciousness of such an investment depends on various factors, including budget constraints, the required level of expertise, and the specific needs and goals of the organization.
Many—if not most—small businesses are deeply budget-conscious, and there's no question that hiring and training an in-house Salesforce administrator can be a significant financial burden. The hiring process alone can be time-consuming and expensive, especially if the business has to advertise the position, conduct numerous interviews, and provide extensive onboarding.
And those are just the upfront costs—once an administrator is hired, the company must continue to pay for their salary and benefits, as well as ongoing training, to keep them up-to-date with any pertinent updates, releases, or best practices.
In addition, small businesses often face fluctuating needs, making it difficult to justify the cost of a full-time, in-house administrator. Month to month, a small business's Salesforce needs can vary significantly, resulting in the kind of volatility that leads to unnecessary expenses and/or suboptimal outcomes.
To make matters more complicated, employing an in-house Salesforce administrator may prove insufficient altogether for companies with complex needs or requirements, as these types of projects often require a level of Salesforce capabilities, technical expertise, and proficiency that administrators typically do not possess.
Advantages of choosing a trusted Salesforce consulting partner for your small business
If hiring full-time help doesn't feel like the best fit for your organization, you're not on your own; many small businesses opt to partner with an agency for Salesforce consulting services or as an implementation partner precisely because it is the wisest and most cost-effective solution for their ever-changing, ever-evolving needs.
Review the following points to better understand why small businesses now require Salesforce consulting services more than ever.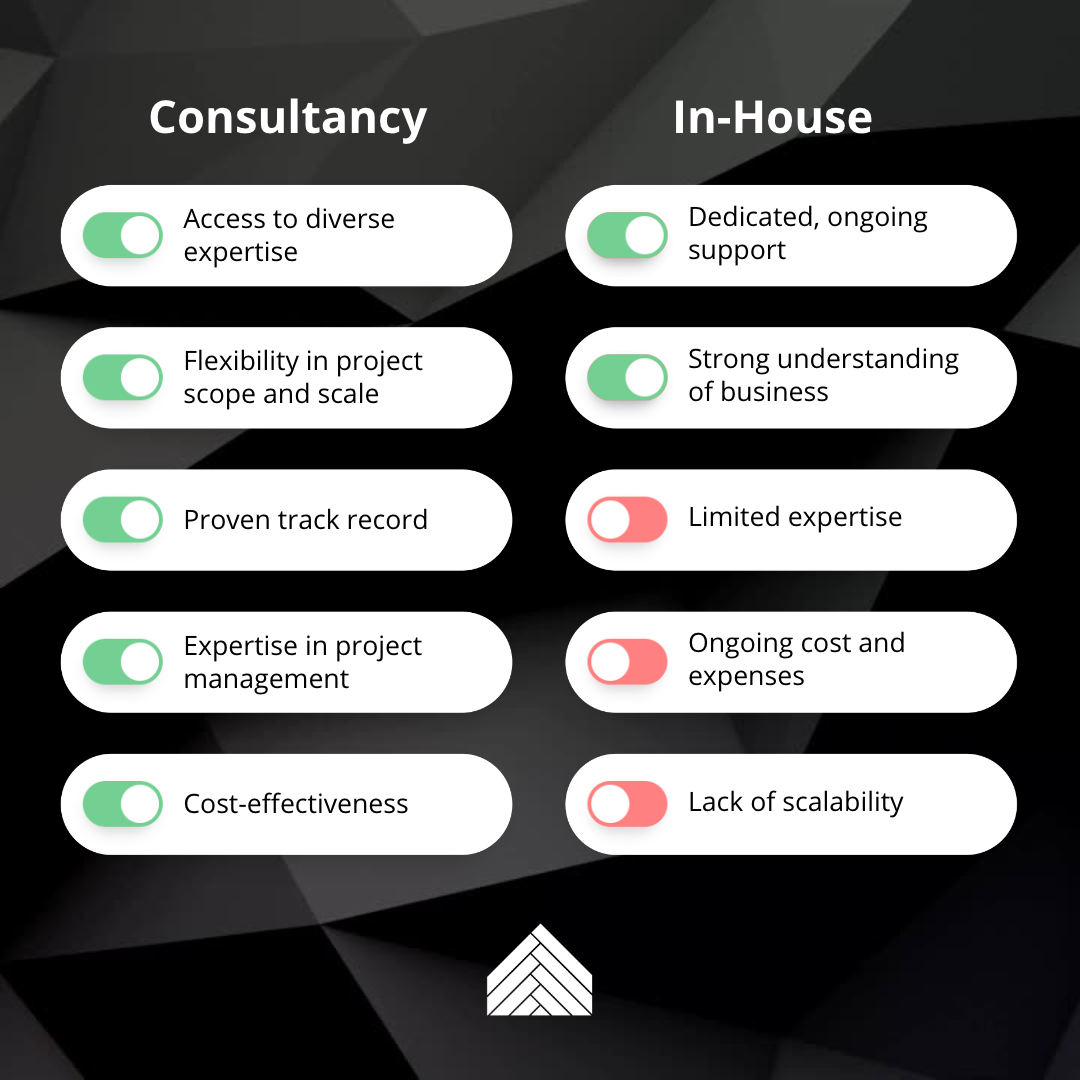 Diverse expertise
Rather than finding, training, and paying a salary to a potentially technically-limited administrator, a Salesforce agency can provide its clients with a wide array of knowledge and skills, including access to experienced certified Salesforce developers who can create custom solutions and handle complex requirements.
Working with a team of experts—rather than an individual—broadens your horizons significantly. A reputable agency of certified Salesforce consultants can provide access to experts across various areas, including app development, business process automation, and multiple product specialties (think Sales Cloud, Service Cloud, Commerce Cloud, and Marketing Cloud—all handled by one entity). By leveraging the collective expertise of a diverse team, you can benefit from a more holistic and comprehensive approach than an in-house resource could offer.
Bear in mind, too, that a worthy consultancy is more than a Salesforce development company; they should bring more to the table than technical skills. When working with an agency, you should also have access to project managers, business analysts, system architects, and Salesforce developers that—working together—can help you recognize the possibilities for customer engagement and business growth, and guide you as you build out your vision.
While it's common for small businesses to use one of today's top Salesforce consulting companies for a Salesforce implementation, remember that they're capable of much more than early-phase work; you can utilize a Salesforce consulting partner for projects of all types, from optimization of business processes in Sales Cloud to custom app development that works seamlessly alongside a Commerce Cloud configuration.
Cost-effectiveness
Critically, the top Salesforce consulting companies can help small businesses achieve a tangible return on their investment in the Salesforce cloud.
By leveraging their expertise and breadth of knowledge, consultants aid businesses in optimizing processes, reducing costs, driving business revenue growth, and customizing systems to meet requirements.
In turn, working with a dedicated Salesforce consultant allows businesses to finally capitalize on the full set of benefits the platform offers—but without incurring the cost of employing an in-house team.
Working with a dedicated Salesforce consultant allows businesses to finally capitalize on the full set of benefits the platform offers
From a strictly financial perspective, a Salesforce agency's inherent flexibility is especially beneficial for small businesses with unpredictable demands, as consultants can scale their Salesforce support services up or down depending on their client's current needs.
When considering a potential Salesforce partner, be sure to ask them about their billing methods. Some agencies will offer fixed-rate costs for defined projects like a straightforward Salesforce implementation, or an hourly/retainer rate for managed services.
Because no two Salesforce consulting companies operate in the same manner, it's important to find a Salesforce-certified partner that can provide services that fit your organization's budget.
Proven track record
Trustworthy Salesforce consulting companies should also have a proven track record of success that comes from years of experience working with a wide variety of businesses across different industries—often in very complex technical environments.
This extensive experience has equipped Salesforce consulting companies with the ability to adapt to diverse business processes, needs, and challenges, providing tailored Salesforce solutions that ultimately lead to a positive and satisfactory customer experience.
A good consulting company can often provide case studies and examples of past projects where they have helped businesses achieve measurable outcomes across a variety of Salesforce clouds. This history of performance gives small businesses the confidence to trust in the agency's abilities and invest in their services, knowing that they will see tangible results.
If you're in the process of interviewing or vetting potential Salesforce consultants for small businesses, be sure to ask them for examples of past projects or referrals from past customers.
Request specific examples from the Salesforce consultant that match your business needs, such as past projects that involved e-commerce development, marketing campaigns, mobile apps, multiple cloud platforms, or other heavily customized Salesforce solutions.
A Salesforce consulting partner should be on the AppExchange, where—provided their customers submitted a survey response when their project closed—you can find testimonials.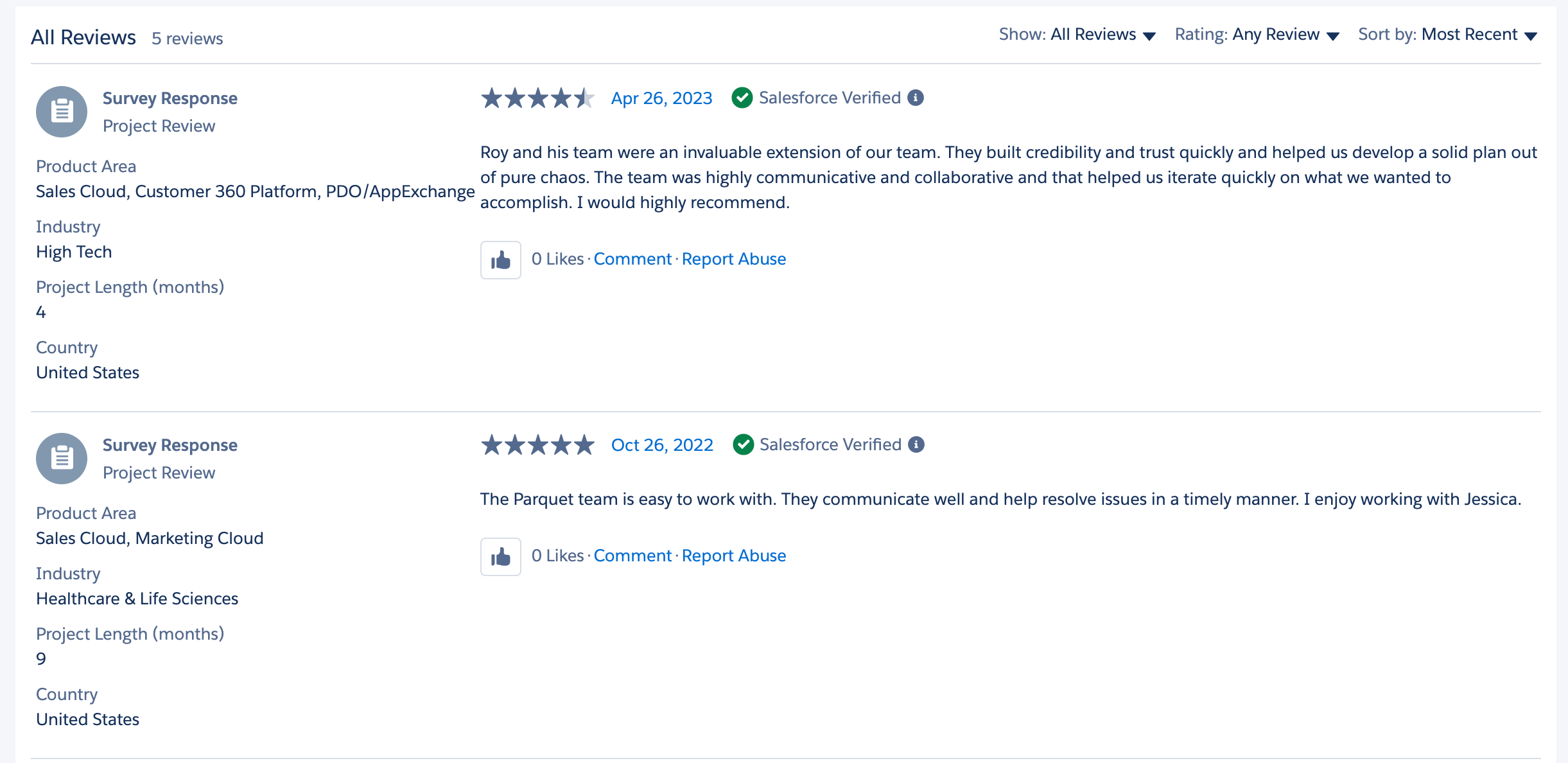 A reputable Salesforce consulting company should be able to showcase its previous work and provide examples of successful projects. Their portfolio should demonstrate a diverse range of Salesforce services and demands, including app development, e-commerce development, data migration, and consulting on business logic and digital marketing efforts.
The best Salesforce consulting companies should have experience in multiple Salesforce products, a verifiable history of excellent project management, and the ability to deliver precisely what the client expected and in accordance with their timeline—and with a consistent level of customer satisfaction across different project types.
Access to the latest technology
Companies offering Salesforce solutions understand that the key to staying ahead of the competition is by keeping up with the latest Salesforce technologies and updates. They continuously invest in training and development to ensure that their team is knowledgeable in the latest features and functionalities, across myriad Salesforce clouds.
By securing consulting services from a respected agency, small businesses benefit from this type of expertise by trusting that their team, too, will be kept up-to-date with new releases and updates for pertinent Salesforce products and third-party software.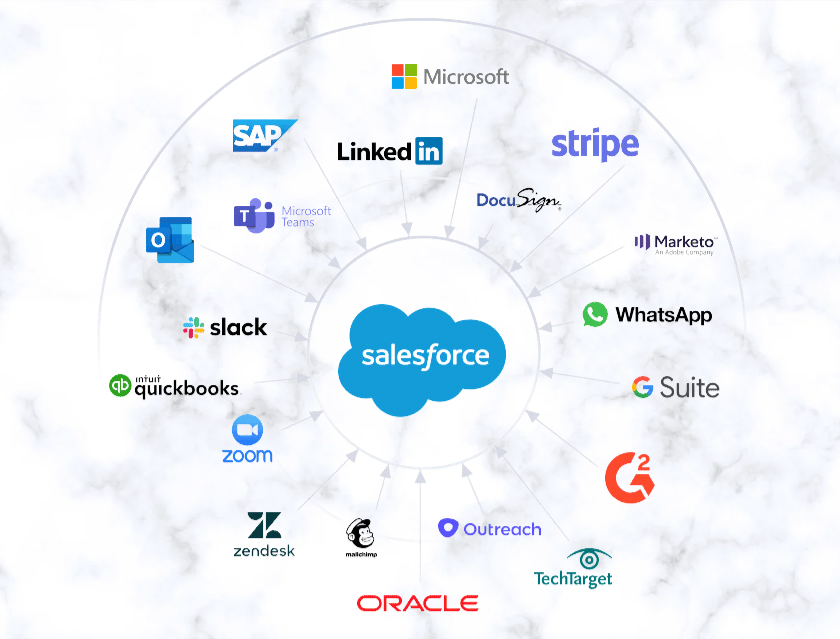 Furthermore, many small businesses have implemented multiple systems and tools to manage their daily operations, which can sometimes lead to disjointed processes and reduced efficiency.
Salesforce consulting companies will help your organization integrate Salesforce with these other external systems, resulting in a more reliable and streamlined workflow. Solid integration work can also provide a more comprehensive view of the customer journey, enabling businesses to make data-driven decisions.
Salesforce consulting companies tend to be well-versed in a variety of digital applications and tools, both in the Salesforce ecosystem and outside it. They should be able to provide you with specific recommendations if your organization is struggling to find a solution for one of its business needs, whether that's regarding web development, front-end development, internal communications, or beyond.
By working with a Salesforce consulting company, small businesses can take advantage of a vast pool of knowledge and experience in the digital technology space.
Bonus: familiarity with a post-pandemic market
As the world continues to recover from the COVID-19 pandemic, small businesses continue to face new and unprecedented challenges. Economic instability, remote workforces, and changing customer behaviors are just a few of the obstacles that small businesses must now navigate in order to stay agile.
Salesforce consultants are problem-solvers who have accumulated real-world experience in navigating the post-pandemic market and can help small businesses overcome the challenges they face as they evolve alongside it.
With a top Salesforce consulting company's guidance, small businesses can achieve agility and resilience in the face of uncertainty—whether by developing new strategies to enhance the customer experience in a virtual world, implementing automation tools to streamline operations and cut costs, or accessing valuable data and analytics to make more informed business decisions.
Summary
Due to the many challenges small business faces in today's economy, they are steadily turning to their Salesforce investments to stay competitive. But while most businesses understand that they will require help to maximize their Salesforce solution, they're often unsure about how to proceed—or with whom they should proceed.
While hiring in-house remains a decent option for some companies, others may not find it feasible due to budget constraints, fluctuating needs, or a need for a diverse skill set across multiple clouds and applications.
Fortunately, partnering with a Salesforce consulting company can provide small businesses with a range of benefits. The best Salesforce consultants out there today have multifarious expertise and specialists, making it possible for your team to implement anything from Service Cloud to Community Cloud. And by providing flexible and scalable Salesforce support services, consulting firms offer cost-effective solutions to small businesses.
A reputable Salesforce partner will also have a proven track record of delivering successful results. They have access to the latest technology and can help businesses adapt to the post-pandemic market by providing expert guidance on how to best leverage their platform to stay competitive.
While few consultancies can be all things for all people, taking the time to interview potential partners and asking the right questions will help you identify a Salesforce-certified partner who can deliver a positive customer experience and meet your team's specific needs.
In short, partnering with a team of expert Salesforce consultants can help small businesses maximize a return on their Salesforce investment.
If your small business is looking for Salesforce consulting services, reach out and let us know. With our team of experienced professionals, we can provide comprehensive Salesforce solutions tailored to your unique requirements.