Pardot provides many great tools and features to help us work with leads. Through landing pages and forms, we can power our lead generation process. To nurture those leads post-acquisition, we can leverage list emails and Engagement Studio. But once we've started to bring in new leads and cultivate those relationships with great content, we also need to begin qualifying them.
With Pardot scoring and grading, we're able to determine when a lead is a good fit and sales-ready—and what their next steps should be.
1. Customize That Scoring Model
A prospect's score is meant to show how engaged a prospect is with your company. The concept is pretty simple (all activities are worth a certain number of points), and unlike grading, the scoring model is set up out of the box. It can be totally customized, however, and is definitely worth a review. Note that all changes to your scoring model are retroactive.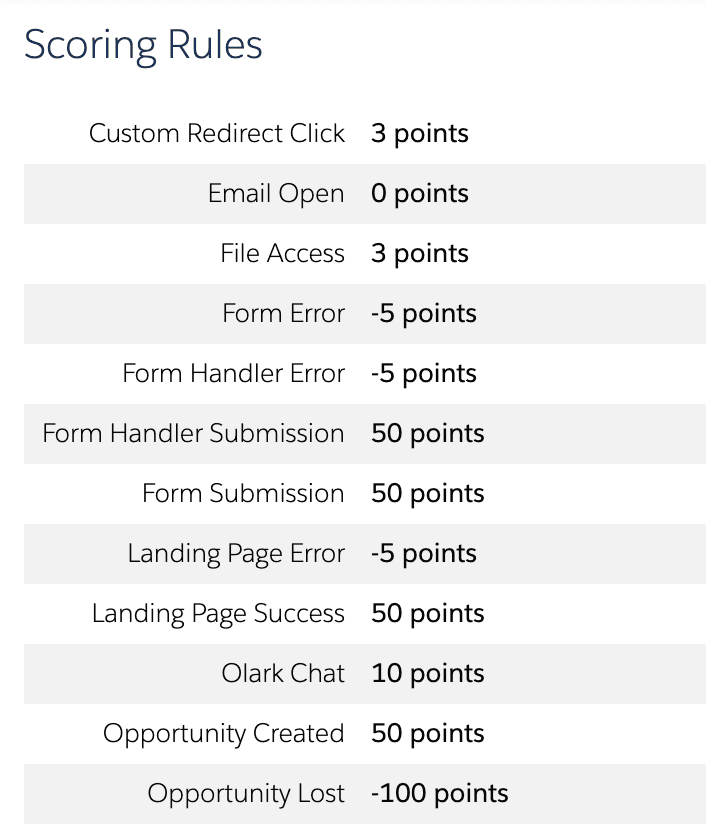 Bonus Tip: Don't rely on the scoring model exclusively. You can also adjust a prospect's score with completion actions on forms, page actions, and through automation rules. Be thoughtful about the activities that should net the highest score adjustment.
2. Scores Can Go Down, Too
When your Pardot scoring system only allows for positive score adjustments, the number can become misleading over time. A lead will likely be most active around the time of creation, when their interest in your services or products is highest. If your nurturing efforts are successful, we expect this number to continue growing as they engage with new content.
But what if the lead stops engaging altogether? If your sales team uses the Pardot score as an indicator of sales readiness, a very high score for a totally dormant lead is not helpful (or accurate). To combat this possibility, you can deduct a prospect's score after periods of inactivity to reflect their waning interest.
3. Set a Qualification Threshold
All leads are not necessarily good leads, and you don't want to waste your sales team's time. To ensure you are only sending the best and most qualified prospects to your sales team, set a Sales Qualification Threshold.
Some companies won't even allow Pardot prospects to sync to Salesforce as leads until they've met these criteria, whereas others will allow syncing but will classify them differently through Lead Status or a custom Lifecycle Stage field until the Qualification Threshold has been met.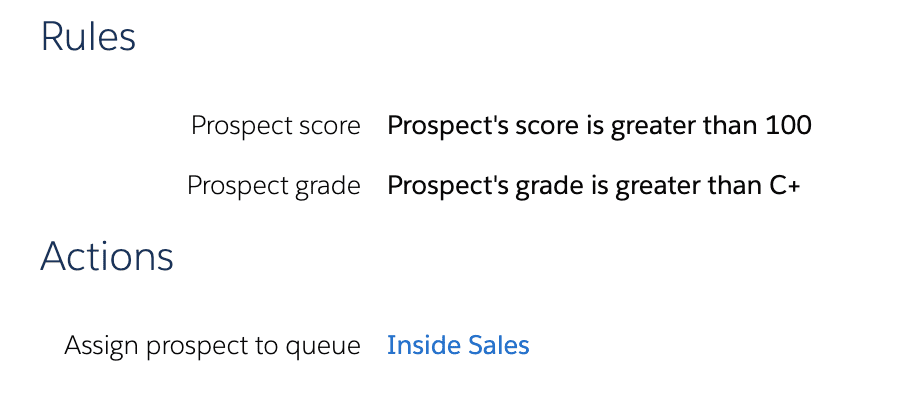 Struggling to get a handle of Pardot's lead qualification features? Reach out and let us know.